Whisper Control Condensation Sensors ENERGY STAR®

rated and CALGreen compliant features

Humidity Control Advanced Sensor Technology

to detect Relative Humidity and temperature for superior accuracy,

Countdown Timer

manually turns fan on initiating a 30 minute countdown cycle and

Manual On/Off Control
This innovative switch is intended for use in problem areas of a home, such as near the shower or bath. If condensation is a problem or is suspected to be a problem, simply replace your existing fan switch with the Whisper Control fan switch. The Whisper Control FV-WCCS2 provides the same condensation control as the FV-WCCS1 model, with an added lighting control feature. The humidity sensor is at the top. The middle button turns on and off the light like any light switch and the bottom button turns on and off the fan manually. The sensor needs no maintenance and provides a lifetime of use!

NOTE: This switch only controls 2 functions (fan and light). If you are using this switch with Panasonic lighted fans - an additional switch will be needed for nightlight function.

Features:

Fan turns off when condensation is no longer present on the walls
Saves energy
Low maintenance
Long product life
Use with your existing fan
Manual on/off control also included
Button to turn on/off light
Wall plate included - but switch can be used with other switches in multi-ganged junction box
For the switch to sense dew (condensation), the room will need to show visible signs of wetness attaching to surfaces, such as steam on walls / mirrors / fixtures. Visible steam in the air is not the problem, the problem occurs when moisture in the air becomes too heavy and the air cannot support the moisture. The moisture then moves to surfaces (this is the dew point), triggering the switch sensors. The remarkable Whisper Control fan switch is constantly checking the air for condensation. At the right time the switch will turn ON your fan and run the fan to clear the room.

Advantages of Whisper Control over standard dehumidistats and humidity sensors:


This control measures and anticipates the need to expel humid air based on dew point. The sensor is programmed to function in all seasons for all Climate Zones. The sensor humidity detection function is based on the psychrometric chart for dew point which makes this control much more accurate and reliable. The delay from sensing dew point and turning on the fan is 5 seconds which will meet your expectations to have the mirror cleared of condensation while showering.
Standard humidity sensors can be +/- 8% Relative Humidity or higher. They are based on rapid rise in humidity which varies by season and Climate Zone. Standard humidity sensors are not as accurate so it is possible to have exhaust fans run either too little or too much.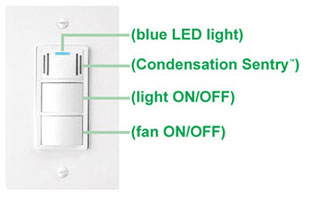 Maximum Fan Load: 1/8th hp or 3 amps
Maximum Light Load: 400 watt for a fluorescent light or 500 watt for an incandescent light

Operation and Testing:
Press the lower button to see the fan turn ON, press the lower button to see the fan turn OFF. Press the upper button to see the light turn ON, press the upper button to see the light turn OFF.
With the fan off, you can test the sensor by blowing into the sensor as if you were blowing on a mirror to steam it. After blowing on the sensor with two or three puffs of breath, wait 10 seconds and the fan will come ON automatically. You will see the blue LED pulse slowly at the rate of one pulse every four seconds. This shows you the control is sensing condensation. You can manually turn OFF the fan or allow the 30 minute timer to run.
You can override the sensor to make the control and manual switch only. Press both the fan ON/OFF and light ON/OFF buttons simultaneously and hold them down for 20 seconds. To reactivate the sensor and LED features, press and hold down both fan ON/OFF and light ON/OFF again for 20 seconds. Now the control is once again sensing for condensation.
NOTE: When the fan has been turned ON by the manual button or the presence of condensation - the control will turn itself back to OFF after 30 minutes. If the controls senses condensation the blue LED will pulse very slowly once every four seconds. At all times, you can manually turn OFF or ON the fan just a you would with a common switch